Removalists Melbourne, VIC
Why Choose Us As Your Movers?
Fragile Removals is a trusted removalist company in Australia, with a track history of more than 15 years of providing premium and competitively priced services. There are many reasons why chose us for your relocation, including:
Our Vehicles
Our large comprehensive fleet of trucks are suitable for jobs of any scale, they are all clean and furnished with the necessary equipment for the safe transferal of your possessions
Well Priced Service!
We will not beaten on price by any other accredited companies providing a similar service. Guaranteed! We price our service competitively to insure you will be satisfied on all fronts. So that when friends or family mention they will be moving soon you will not hesitate to recommend us.
Reliable, Professional, Experienced
Our team of movers are professionally trained to meet the high standards set by the Australian Furniture Remover Association, they have all been police checked to insure our clients are in good hands. Our workers undergo Occupational Health and Safety training as part on our comprehensive training modules, that cover not only the physical aspects of furniture removal but extend to customer contact, customer service, company vision and corporate goals, insuring you get not only experienced professionals, but movers that understand our clients and the level of service we require in order to position our service above other industry standards. For any type of removals job we will strictly follow all industry standards.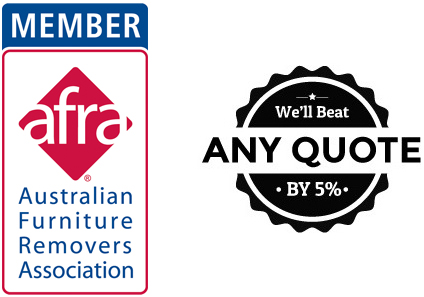 Industry Accredited
Fragile is proud to be a member of the Australian Furniture Removers Association (AFRA) that acts as a regulator for the industry and insures all registered moving companies conform to a strict code of conduct, hold all required insurance policies, provide training to all staff members, insures that offices and storage facilities are fit for public access and that appropriate vehicles are used to provide the service. Using an AFRA member insures your choice of mover anywhere in Australia is a sound choice!
Fully Insured
Our insurance policies! All removalists Melbourne wide should hold the appropriate insurance policies. Feel free to ask for a copy our carriers legal liability, cargo insurance, public liability or WorkCover insurance. Please note these are our insurance policies that cover us whist providing services around Victoria. We hold an FSRA licence and can legally provide you with advice regarding most types of insurance that may be required when relocating.
Exceptional Customer Service
– Our management software enables you to view your quotes, make bookings, view past booking, communicate on record, view inventory lists and provide feedback.
– We provide a varied range of ancillary services that reduce the hassle, timing issues and higher cost associated with relocating, which you can read about further below.
– Unlike some other companies, we do not charge fuel levies or extra fees for stairs or steep driveways.
– We pride ourselves on being the best removalists that Melbourne has to offer, so do not hesitate to ask us any questions you may have, no matter how difficult it sounds.
– We are more than willing and capable to be flexible according to your needs, including making extra stops or picking up items along the way, keep items over night or working after hours. Just give us a call or send an email outlining your special requirements and we will do everything we can to accommodate your requests on moving day.
What Services Do We Provide?
Wherever you are located throughout the metro area and the surrounding regions, you can trust Fragile for:
– Home removal
– Office and commercial removal
– Furniture relocation
– Interstate
– Storage, mobile storage and container storage
– Prepacking and unpacking
– Cleaning services
– Handyman Service
– Disconnection and reconnections of utilities
– And so much more!
Call us today on 1800 500 584 for more information and get a free moving estimate and see how affordable our movers are.

We understand that customers are our biggest asset and will make sure to provide you with a timely and professional service whilst insuring you are always well informed. You will be able to reach us at the office six days a week and will be provided with after hours support by our dispatches for your convenience. Fragile Removals will stop at nothing to ensure your house, office or business move is easy and stress-free.
Fragile Removals Melbourne
72/95 Napier St
Fitzroy VIC
3065